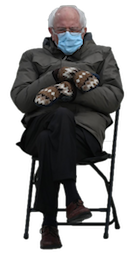 I'm now unfollowing
everyone
who RTs a fascist post. I don't care if we've been friends for life. You're at best an idiot for doing this. At worst, you want to see the
world burn
.
#
With hard disks so cheap
, it's ridiculous that more and more, the storage for my phone has to come in via Google's or Apple's servers. This is not an accident. It gives them too much control, and it's quiet, you don't hear people ranting about them the way they do about Facebook.
#
A NYC doctor I saw three years ago wants $40 and won't say what it's for. This isn't the first time they've done this. Luckily this was just for some foot pain, and I know exactly what was done. No tests, nothing.
#
Four years ago today
we marched. Peacefully. We didn't kill anyone. We didn't occupy the Capitol. We behaved like respectful Americans.
#
When someone says you are difficult, I think that means they wanted something from you and you said no.
#
My opinion of President Biden? Yes! I like him. Good move America. We elected a good president. Thank you very much.
#
What's "neo" about neo-Nazis? Why not just call them Nazis? I've asked this question a bunch of times, over many years, never heard a satisfactory answer.
#
I spend an awful lot of money on video entertainment and receive very little in return. There were many months I paid for HBO but didn't watch a single thing on it. I paid for Showtime, but I think there were whole
years
that I never watched anything there. I'd love to re-watch
an HBO show
that I recommended to a friend (and am hereby recommend to you) but I'd have to re-sub to watch it legally. Couldn't I just use one of those months in the past where I watched nothing but paid anyway? Okay so they need so much money for the lavish productions of new stuff. Maybe they could price their archives separately? How about that. Anything more than 10 years old say, you can have for $1 a month, and do a bundling deal where I can get everything that's 10 years or older from any of the majors for $10 a month. Problem is they'd find they have a glut of good stuff. We don't really need that much more. The whole thing is grossly out of whack. BTW, I did sign up for
Fubo
, only to find out they don't have an app for my LG TV, which is a whole other rant, why exactly do there have to be special apps for every TV. (Yes I know the answer, but I'm asking at a deeper level. Thank you.) I thought I might watch the Knicks, but there was an inauguration, and I had my Covid vaccine, and it made me tired, I think, so instead I just went to bed.
#