President Biden does something I thought Democrats forgot how to do. He goes around the obstruction in DC, bringing his ideas to the people. Journalism could learn from this. If they understood and took the side of the people more, they'd have more support from the people.
#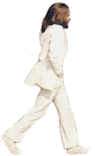 I've thought more about
Making of Sgt Pepper
. It's amazing to hear the Beatles' perspective on the
album
, I had never really thought how it was created, yet as a creative person myself, I'm often surprised and even offended that people don't consider my point of view about the things I created. But at one time, Sgt Pepper was their thing, their secret. That's why the
final quote
was so strong for me. "You just wait," says McCartney -- echoing the feeling in 1967 when he knew he had something great, that was going to shake the world (as it did) and no one but he and a few others knew what it was. And the lesson of the Making of Sgt Pepper is that you and I will never know Sgt Pepper the way McCartney does. And one more thought, if only John Lennon could have been there, what would we have learned.
#