GREAT Frontier Web Site for
April 20, 1998

Be, Inc.

We've been using Frontier at Be for years.

Company: Be, Inc., http://www.be.com/


Web Team:
Ron Theis, Webmaster
Michael Alderete, Web Content Developer
Melanie Walker, Web Content Developer
Ben Cerveny, Web Database Integrator


Frontier Scripting by:
Ron Theis, ron@be.com
Michael Alderete, alderete@be.com

Graphics: Bruce Browne, Melanie Walker, and others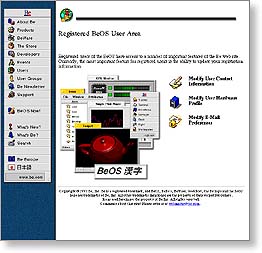 Michael A. Alderete describes the projects:
Be, Inc. is a small startup company doing what a lot of people think is impossible: producing a new operating system for desktop computers. We've been enormously fortunate in the amount of publicity and word-of-mouth that we've received, but with fewer than 70 people worldwide, it means we have to leverage every resource we have to handle the volume of inquiries engendered by that publicity. More than anything else, that means building a web site that answers people's questions about Be and the BeOS.
Although we use a variety of different tools to produce different pages, Frontier is a major tool in our toolkit. Frontier generates more of the thousands of static pages on our site than any other tool, and virtually all of the scripted pages.
We've been using Frontier at Be for years. Probably the earliest portions of the site to use Frontier are the pages of the web site reserved for our registered developers. That section, run by several CGI scripts, allows developers to update their contact and project information, and to create listings in BeWare, our on-line software catalog, for each of their software products. Each entry in BeWare has its own web page, and those pages are updated every night by a Frontier script accessing a FileMaker database.
We also store all of our FAQs, or frequently asked questions, in a FileMaker database, and custom scripts make it fairly easy to render the FAQs out to both index and individual pages.
The templating part of the Frontier HTML framework is the part that I like the most. It makes it easy to get the outline of the page right, time after time, and concentrate on getting the guts correct. Many sections of the site are done by a single template, which made it easy to change, for example, the page copyright date when the year changed earlier this year.
We also have a variety of custom macros used on many pages, for doing things like date stamping, icon references, and the like. By writing a simple script we can extend the language we use to author our web pages. I love how easy Frontier makes that kind of thing.