GREAT Frontier Web sites!

PMC-Sierra Inc.
Frontier 6.0 with a custom-designed editing suite, delivers an intelligent website and a comprehensive workflow system.



Haddock Directory
A directory of 5,000 URLs on more than 300 pages, all of which are generated by Frontier



Sister Moon
The site consists of a lot of pieces ..... Frontier helps keep it all in order.



The New Homemaker
A number of custom macros build tables of contents for the entire site and by section, decide which cgi scripts to put on which pages, build "what's new" menus, update the home page, create custom subnavigation bars, and a lot more.



Mac Publishing, L.L.C.
The server component allows many people to work on the same site at once, and provides logging and site admin features.



Brockhaus, Germany
The separation of form and content ... gave me great flexibility while designing the site.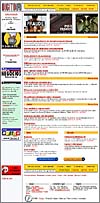 Digito
The leading tech news site in Portugal, delivering more than 100 thousand page views per month, and is entirely built with Frontier.



Sports Illustrated at the Goodwill Games '98
... ... it's all dynamically generated with Frontier using COM links back to an IIS web server.



Web-Places
The entire site continues to be rendered and served dynamically through Frontier...


Asia Society
Frontier proved flexible enough to handle all the wrinkles in this project: javascripts, various files types (applets, audio, Flash)



Royal New Zealand Air Force
...without Frontier, I think this project would have been a monster.



The Ridge Theatre
A community theatre that handles repertoire and second run films.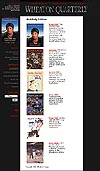 Wheaton College Quarterly
I liked the ability to use templates, glossaries and preferences to make changes as large or small as I needed them.

More GREAT Frontier Sites
And More GREAT Sites
Complete List of Showcased Sites