McIntyre Photography

Technical and artistic creativity at its best!

URL: http://www.mcintyrephotography.com
(Download Note: this is a very graphics intensive site running off a network connected by a 33.6 modem)
Developer: Brian Andresen, Technology Solutions, brian@techsoln.com
Client: Gerry McIntyre, McIntyre Photography, gerry@mcintyrephotography.com

Brian Andresen describes the project: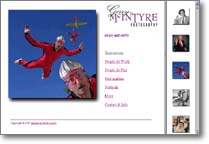 After developing an interest in the World Wide Web, the hot item on this photographer's list was publishing an electronic portfolio. He required that he could rearrange and update the portfolio himself, but basic training in HTML never found its way into his busy schedule.
Enter Frontier!
Today, Gerry has full control of his portfolio from a FTP client. He uploads to and deletes from a set of directories on the web server, and then visits a password-protected page. A click of a button kicks Frontier into action; the entire portfolio is rebuilt in Frontier's object database and published to a staging server. After inspection and any corrections, another button directs Frontier to merge the revised portfolio into the existing site. The net effect: site generation is completely automated and is transparent to the photographer.