The Ridge Theatre

A community theatre that handles repertoire and second run films.
Details:
http://www.sitegeist.com/ridge
Frontier Scripting by Cyprien Lomas, lomas@zoology.ubc.ca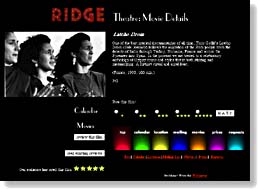 Cyprien Lomas describes the project:
I finally got my pet project site "The Ridge Theatre" converted into a Frontier site and I am very happy with the ease of management.
We are a community theatre that handles repertoire and second run films. Our primary form of advertising is a calendar which goes up on fridges around town. We have a very loyal customer base in Vancouver, BC, Canada due in part to our staff, good programming and the beauty of our building (one of the original large movie halls in Vancouver).
Our main goal was to keep the site simple, fast to load and reflective of our (and our visitors) love of alternative cinema, but over time the site had grown to be almost unmanageable.
Our problem was managing dozens of reviews of films, and growing the site as new films were added to our archives. The index site function made this a breeze! While we don't really do anything complicated (basic directive calls to images, CGI posting, etc), I now feel like the site is under control and am looking forward to effortlessly adding sections.
The movie pages include calls to CGIs which allows the visitor to read reviews or post reviews of the show, or if they are lazier, then can just give a 1-5 star rating of the show.
I must say that I am glad to finally complete this; it has been a project to move to Frontier for about 1.5 years now!