GREAT Frontier Web Site for
January 19, 1998

The Workbook
Online illustration and photography sourcebook
URL: http://www.workbook.com/
Company: The Workbook
Team:
Doug Dawirs, Director, Online Services
Drea Solan, Digital Products Production Manager
Dori Smith, Web Programmer/Webmaster, dori@workbook.com

Dori Smith describes the project: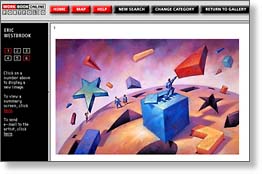 The Workbook is an online sourcebook featuring portfolios of illustrators and photographers, stock photography resources of 45 different stock photography houses, and 45,000 verified listings in the Directory--the contact directory of the creative community. It is the site that connects creatives with the commercial quality resources to create.
With the exception of a few introductory pages, the entire site is created and served on-the-fly using Frontier CGI's, Filemaker Pro, and WebSTAR.
In the Stock Photography area, a user can search for a stock photograph using keywords to describe their goal. A Frontier CGI then searches a Filemaker database of nearly 25,000 records for the URLs of photographs that match the criteria, and then builds and returns custom search result pages.
The Portfolio section is divided into categories, including Photography, Illustration, Design, and Digital. Within each category, a user can search by name. Designers and photographers can also be searched by specialty and/or location, and illustrators can also be searched by emphasis and/or medium. There are approximately 100 portfolios represented, which have up to 23 pages of images each. When I first started working on this site, this area consisted of around 6000 HTML pages. It's now 4 Frontier CGI's, one HTML file per artist, and a Frontier table that contains data about each artist. CGI's read through the tables and use the information to build pages that match the user's requested criteria. Adding a new artist used to require about 50 new HTML files. It now requires one new Frontier sub-table and one HTML file.
This setup gives us a tremendous amount of flexibility. If I want to add a feature that only works for newer browsers, I can change the CGI that generates that page to check the user's browser and then return an appropriate page.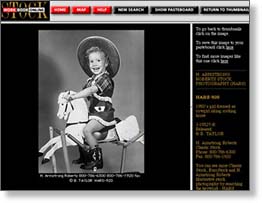 Just had to include one more screen snapshot! - Thea
Dori adds "...one of Workbook's stock photos which I'm "borrowing" as a logo for my Frontier pages. I've always loved the expression on her face."