GREAT Frontier Web Site for
February 2, 1998:

University of Oregon Housing

"Frontier allowed us to concentrate more on content and design than mundane chores..."

URL: http://darkwing.uoregon.edu/~housing/
Company: University of Oregon Office of University Housing
Team:
Eric Braswell: Site design, graphics, HTML and Frontier scripting, two@seconds.com
Holly Moline: Project Management, content development, site design

Eric Braswell describes the project: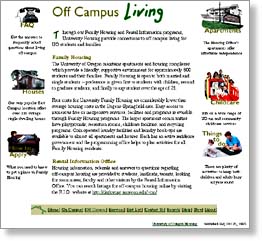 This site serves as an information source for prospective and current residents of University of Oregon Student Housing as well as for people interested in catering and conference services at the UO. We began development of the site in early 1997 as an attempt to move away from simply putting print publications on the web.
Since much of our traffic comes from overseas (students checking out their housing options), we wanted to ensure the bandwidth requirements were minimal.
At the same time, however, we also get a lot of traffic from current residents using the campus ethernet. We tried to balance these two audiences to create a site that was both functional and aesthetically pleasing.
Because we used Frontier to manage the site from the beginning, we were able to go through many more design tweaks than we might have otherwise. Frontier also allowed us to concentrate more on content and design by taking care of mundane chores like link generation and rendering of our navigation features. For the latter we employed, as others have done, a hacked version of siteOutline() which allowed us to maintain an arbitrary order of navigational links that were limited to each sub-section of the site.
A custom Frontier script is also used to generate cafeteria menus from plain text files and other scripts aid in day-to-day maintenance. It is our hope that this site will one day be hosted on a Mac webserver so we can use Frontier for CGI scripting and other funky things. BBEdit was used as an external text editor, and Photoshop 4.0 was used for graphic elements and manipulation of photos.