Web-Places

The entire site continues to be rendered and served dynamically through Frontier...
URL: http://www.web-places.com/media/index.html
Company: Bitmovers Communications, Inc., http://www.bitmovers.com
Client: Mei Technology Corporation, http://www.meitech.com/
Frontier scripting: Larry Halff, halff@bitmovers.com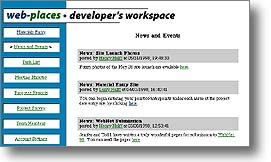 Larry Halff describes the project:
PROBLEM:
In the Fall of 1997, Mei Technology Corporation received a Small Business Innovative Research grant from the US Department of Education to research and design a web site authoring system for high school students. To implement a prototype demonstrating the potential of such a system, Mei Technology chose Bitmovers as their web development partner.
SOLUTION:
At the start of the project, Bitmovers created a web-based project management system. Using Frontier as a CGI running behind WebStar, this site was implemented in a custom groupware framework (which is built upon a rapid Frontier CGI development system). All of the project planning materials, including student surveys, meeting minutes, and progress reports were entered, updated and viewed dynamically. Different kinds of users had their own unique view of the project site, where they could only see and enter information relevant to their role in the project.
Using this site to brainstorm and develop ideas, students decided to create a site about the representation of their school in the media, focusing on three current, controversial topics: standardized testing, school uniforms, and teenage pregnancy. The students researched these topics and entered their findings into the project site.
After the project was completed a public interface, including a message board, was attached to allow visitors to view and comment on the site. The entire site continues to be rendered and served dynamically through Frontier, so that revisions and entries to the site are available instantly.