Digito

The leading tech news site in Portugal, delivering more than 100 thousand page views per month, and is entirely built with Frontier.
URL: http://www.digito.pt/
Company: Digito, Portugal
Webmaster & Frontier scripting: Joao Beltrao, joao.beltrao@prodigio.com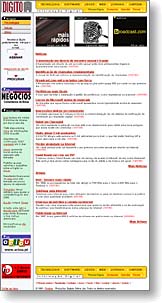 Joao Beltrao describes the project:
Digito is the leading tech news site in Portugal, delivering more than 100 thousand page views per month, and is entirely built with Frontier. This web site was born under the name "News Flash" in May 1997, mostly as a way to make info available to a group of friends. At that time News Flash was done "by hand" and updated weekly with the latest news from the tech world, all in Portuguese. As time went by the site was growing so rapidly that it became evident it would become a comercial venture at some point.
In February 1998 a group of friends formed a company to provide web design services and to maintain "News Flash" and the decision was made to change the name of the site, as well as the design, structure and quality. The team began serching for a database solution that would not require a dedicated server and still allow for easy publishing of a big site out of a database. Frontier was chosen in February 98, after reading an article about it in Wired Online. For the whole month of March two programmers and one designer worked on Frontier day and night, to learn the ins and outs of Frontier and to setup the site. After 1 month of intense brain-storming, design and programming 'Digito' was born, on April 1st 1998.
Frontier was chosen to publish Digito because it makes it very easy to manage a very big site with a lot of co-related content. All the headlines, summaries and body-text is published across the site, and a menu was built within frontier to allow easy adding and editing of news and articles. Some routines were also added by the programing team to allow integration of content with the leading search engine in Portugal, the automatic creation and updating of an IE4 channel and a ie4 desktop component and automatic generation of pages contating the headlines sorted by type and sub-type.
Also, only the changed pages are published, and that is done using an altered version of the routine that first came with Frontier.
The content in Digito is highly componentized, meaning that every piece of content, be it images, banners, headlines, titles, summaries, etc, are all separate objects filtered and manipulated by the routines programmed by Digito's programming team.
Today Digito is updated on a daily basis, sometimes several times a day, and it features news and articles about technology, internet, computing and games, and is the biggest site in Portugal of this type.