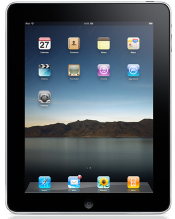 I was up this morning at 8:30AM Eastern and saw the notes that the iPad was now available for pre-order. So I went through the process, updated my credit card on Apple's website, changed the address and phone number. The total price was a bit of a shocker -- approx $650 including tax.
I hesitated. I was typing the order on a $350 Asus Eee PC that I had bought a long time ago. It gets about 8 hours on the battery. It has a 160GB hard drive, three USB ports, Ethernet, webcam builtin. Real keyboard. No DRM.
I went to Amazon to see what I could get for $650. Lots of stuff I'm not buying that I'd like to have. A nice Polk Audio soundbar is about $500.
I could fly roundtrip to San Francisco for that amount.
I thought about which I would bring with me on a trip to San Francisco, an iPad or the Asus. No doubt, I'd bring the Asus. I have no idea what I can do with the iPad, and most important, I have a pretty good idea that I won't be able to run my software on it, or watch a movie I ripped from a DVD. Or listen to a podcast I downloaded with non-Apple software.
I decided that no matter how important it is for my work to understand what Apple's product does, it can wait until I find out what the product is. I guess I no longer have the Apple bug up my ass that says I have to get one of everything they make on the day it comes out.
So for now at least, the answer to the iPad is "no."
Update: People say here and on Twitter that you'll be able to watch movies you rip from DVD or listen to podcasts downloaded with non-Apple software on an iPad. They reason that since you can do it on an iPod you will be able to do it on an iPad.

3/12/2010; 12:50:47 PM. .