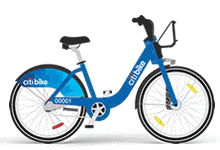 I was writing about this on Facebook, explaining to NakedJen how, while I am usually punctual and keep my commitments, sometimes I miss wildly.
That reminded me of the time, recently, that I was more than 20 minutes late for a breakfast meeting in the West Village.
How could this be, you might ask, when it takes about 20 minutes to get from my Hell's Kitchen apartment to the Village via subway. Well, I didn't take the subway.
I like to, in the summer, if I have the time, ride a CitiBike, if I'm going downtown. Can't use it for uptown trips because there is no CitiBike north of 60th St, yet. Someday soon I hope I'll be able to use it to go to meetings at Columbia or to shop at Zabar's. But not yet.
So I go to my usual CitiBike station, and oops, they're closed for maintenance. I look at my watch, thinking I might just make it if I go down and catch the A, B, C or D train at Columbus Circle to West 4th. But I decide to chance it, so I walk downtown to the next CitiBike station on Broadway, and they're closed too. Now I'm really fucked, I'm on 53rd and Broadway, and there's no subway nearby that gets me close to the restaurant I'm going to. So I continue down Broadway, and that station is open but it doesn't have any bikes (no surprise, given that so many stations in the area are closed). So I go west, there's a CitiBike station on 54th and 9th, and it has bikes. I get one, ride downtown, and that's why I was so late.
The meeting was with people from Apple to discuss their celebration of ten years of podcasting (according to Apple of course, podcasting existed for a few years before Apple got into it). I must have pissed them off, and rightly so -- I hate it when people are late like that. I have a 20-minute rule myself. If they had been so late, I would have left. And as a result, I guess, their celebration of ten years of podcasting actually had none of the history of podcasting in it. It was just a list of all the current hits, Fresh Air, This American Life, Serial, etc. Oh well. Hopefully no one thinks that's all there was to podcasting.