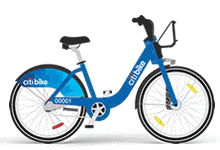 I love riding in NYC. Both on my own bike and using CitiBike. It's exciting times, because CitiBike is moving uptown. Now it's possible to ride from anywhere in lower Manhattan or Brooklyn to the uptown museums on both sides of the park. There's also a new connection to Queens.
Last week I heard WNYC, the local public radio station, asking for bike riders to take pictures of cars blocking bike lanes. They want to understand and document the extent of the problem. I love this so much, both as a bike rider, it makes it possible for me to help make riding work in the city, and as a news developer, I strongly believe this is the kind of project news organizations must undertake, to provide more value in the new context of news.
Not everyone in NY will agree, but I want to see bike riding work here as I've seen it work in Copenhagen and Amsterdam. There, if you, as a pedestrian, step out into bike traffic, you're as likely to get injured as if you walked out into car traffic. This is a good thing! It makes biking work as a means of transport in these cities, equal to cars in every way. That makes for a more human and more sustainable city.
In NYC, pedestrians often use the bike lanes as extensions of the sidewalk. And drivers park cars, buses, trucks and ambulances in bike lanes. I've never seen a cop giving tickets for this.
So I've taken two sets of pictures. One on West 54th St, an west-east bike lane street, and the other on Central Park West, an excellent south-north route, if the bike lane wasn't blocked by cars. This will become even more important now that there are three CitiBike stations at 66th, 72nd and 77th streets.
I've published all my pictures both on the WNYC site and on Facebook.
Why this is so important
This is a perfect example of the kind of project news will thrive on in the future. Helping citizens be active in bringing about change. They don't have to be pro bike or pro car. Just help everyone share what they see and think. I love taking the pictures and sending them to WNYC -- makes me feel powerful.