I Want You!
The 24 Hours project continues to move forward. There's plenty of time and opportunity for everyone to participate.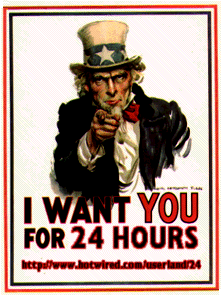 How to Wear the 24 Hours Logo
If you support the Democracy project, please point to the 24 Hours website from your home page.
Here's how to do it. Choose a graphic from the Standard Graphics page. You can improve on what we have, but I ask that you stick to the same theme. A blue background with stars, and text that says 24 Hours of Democracy. Consistency counts.
Link the graphic to http://www.scripting.com/twentyFour/.
Extra credit
For extra credit, add a level of indirection -- point to your own statement, and then point from that page to the 24 Hours site. What you have to say about freedom on the Internet is *very* important. When you're ready to link your essay into the chain, check out the Did We Miss Your Essay? page for instructions.
If you're a webmaster for an organization, you can put together an essay program for your users. Want to see an example? Check out what The Well has done. You can do the same kind of thing for your organization. You're helping your company keep open an important channel of communication with its customers and constituents. It's good for the shareholders. Help your president understand that.
If you want to get involved in ongoing projects, please join the Mailing List. It's a high-traffic list, not recommended for the faint-of-heart, or emailers with no filters.
Let's work together for free speech on the Internet.
This project needs your support.
Thanks!
Dave Winer
PS: In the early days of this project we kept a registry of home pages linking to the 24 Hours site. The list got so huge, we'd have to do a "10 Random Home Pages" script to make the list manageable. And we already have to keep track of lots of essays. If someone wants to maintain a home page registration server, I'm happy to give that project away.
PPS: If you wrote an essay but think it might not have gotten registered, please check out Did We Miss Your Essay?