Recall that we didn't like the earlier version of Ping in iTunes 10.0.
A quick note about iTunes 10.1.
Ping now is beginning to actually be a social network for music.
I just played a song from my collection and told everyone I liked it.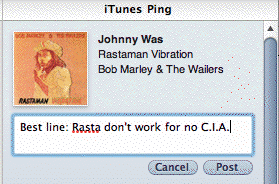 I'm scriptingnews on Ping.
Follow me!

Update: No can ping The Beatles. Not in iTunes store.
PS: Still wish it ran in my browser.

9/25/2010; 5:49:29 PM. .