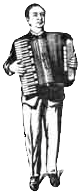 I saw an announcement that Medium has an API.
They list a bunch of software developers they worked with, and one of them is IFTTT, so I tried hooking up my RSS feed to Medium using a recipe and maybe it'll just work.
That would be fairly easy.
Let's see what happens!
Update
A few minutes later, the story shows up on Medium. But it's not all there. There were so many steps in the process, it's hard to know where the missing bits got lost.
Also, when I clicked on the headline, I saw HTML markup on the page, and no title, though it looked fine when I saw it in my list of stories.
Probably no matter what an IFTTT connection will be less accurate than a direct software connection. But maybe it'll do to begin with.
I would update the post if we were using the API, to reflect changes.