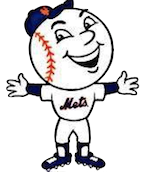 It's not often that I read an essay that changes the way I think, but this one, by James Williams, did just that.
He says that unless you like selling your time to advertisers for nothing, it's in your interest to block ads.
In other words, if it's time to build the ad-free Internet, first we have to get rid of the ads.
Yes I know advertisers don't like that idea. But I'm not an advertiser. Thanks for listening.
In this 20-minute podcast I talk about this idea.
PS: I'm going to the Mets game tonight, paying an ungodly amount of money for the privilege, yet the whole experience is going to be saturated with advertising. At some point we have to put our foot down about this too -- putting ads on products we pay for.
PPS: The picture of Mr Met is not an ad. It's decoration. I love the Mets. And I love that our mascot is a 60-plus year old douchebag whose head is a baseball! He doesn't seem to know or care.