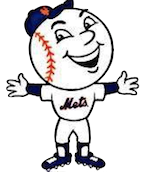 I went to game last night, worried about what was going to happen.
The Mets, adults and winners, kept their eye on the prize. The best payback is winning, and boy did the Mets win. A little drama at the beginning but then a slug-fest, so much love!
The Dodgers tried to win by changing the subject. They couldn't win with pitching, hitting, base-running, fielding, strategy or philosophy, so they tried to embroil the Mets, who have some young players, into losing their cool. But the Mets say Nuts! We don't need to break your shortstop's leg to make you lose. We'll do it with great hitting and love for the team.
With my voice almost gone from the party we had last night in Queens, I recorded a short podcast to remember the occasion.
PS: Cross-posted on Facebook in full text without the corny picture of Mr Met welcoming the Dodgers to CitiField.