First, it's probably not a good idea to ride before eating, but I didn't want to wait because I figured it would get pretty busy on the trails today as it was yesterday. But about 1/2 hour into the ride I started feeling unusually depleted. Who knows what the reason is, but I think I'll pack some nuts or candy for future rides.
Even so, it was a fast ride. 13.4 miles, 1 hour 6 minutes.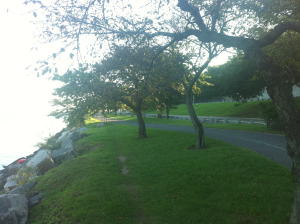 Once again I checked-in at the turnaround point on Facebook.
Thinking about getting an iPhone 4 mount for the bike.
Also thinking about a heart-rate monitor. They have iPhone apps that use the microphone to measure heart-rate. Wouldn't it be cool if they had one built into Cyclemeter? Then the map could include heart-rate data.

8/29/2010; 10:02:00 AM. .