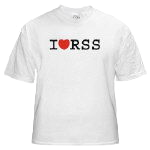 I was looking for something to read yesterday, when I saw a piece by Jeffrey Zeldman pointing to a 2006 post by Matt Mullenweg about the Feed Validator site. It was a remarkable piece, I don't remember seeing it at the time, I think if I had I would have written something about it.
It was a time capsule, and it was passionate and opinionated. Great writing.
At that time there was already lots of history about RSS 2.0. There was a comment under Matt's post linking to a thread at Sam Ruby's site that was started by a comment by me. I played a super-large role in this community, which was good and bad, it was bad in that it prevented me from even asking questions about stuff, because they would always read lots into what I said. And there was a lot of confusion at the time about what RSS was used for. I didn't understand what they didn't understand, you can see that clearly in the discussion at Ruby's site.
Also I wrote a BDG for RSS 2.0, something I had no memory of. Probably shouldn't have called it that. They were just some practices I used in my own feeds, and saw others using successfully, that I wanted to point out to people. I should have been more self-deprecating and less grandiose. In the comments there you can see how that created trouble.
<guid> vs <link>
One of the big controversies was what's the diff betw <link> and <guid>.
<link> came first. People were mostly using it the way I imagined <guid> would work, but there were exceptions, and those were legal, and they were out there, and I'm sure they wouldn't change just because some spec text changed somewhere. So if we wanted a workable way identify an item, we'd need a new element.
That's why both are there. As with all mature formats there's history. Some of it is less than optimal, even inelegant, but so are all systems that are deployed and work. If you don't believe me try using the NYC subway sometime.
No linkrot!
This is fantastic: I didn't encounter any linkrot in my travels around the RSS 2.0 discussion space. One thing you can say for blog developer types, we do archives well. With any luck it will be possible to study this community with the benefit of ten years of hindsight.
This is just a blog post
I don't have any conclusions to offer at this time, just wanted to gather these links together so I can find them again later.