Nightly Tasks... This command offers you three possible tasks to be performed at 2AM every night -- restarting the WebSTAR app, rollover the WebSTAR.log file, and mirroring the contents of the website to any number of folders distributed around your local area network.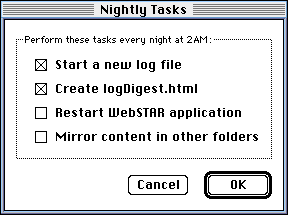 To perform these tasks, we create a new sub-folder of the Frontier folder called "WebSTAR Tasks". It has two sub-folders -- Saved Logfiles and Mirror Aliases.
If the first checkbox is checked, we copy the WebSTAR.log file into the Saved Logfiles folder, giving it a unique name, so this folder accumulates all your log files, and you never have to deal with hugely bloated log files.
If "Create logDigest.html" is checked, at 2AM your log file is analyzed and a top-50 list of most frequently accessed web pages is created in logDigest.html in your home directory. Check out the logDigest for www.scripting.com.
The Mirror Aliases folder should contain aliases to folders that you want to mirror the contents of this server's folder. After choosing the Nightly Tasks command, open the Frontier folder, then open the Mirror Aliases folder. Using the Finder's Make Alias command, place aliases of the appropriate folders in this folder.
After setting up the Nightly Tasks, you may want to try a dry run. If so, bring Frontier to the front, and type this into the Quick Script Window:
	WebSTAR.commands.doNightlyTasks ()
Click on the Run button. This is the script that's automatically set up to run every night at 2AM.